Our news
Progress Reports
16 ינואר

Grand Solaire Pattaya
13 ינואר

Start construction ceremony for Arcadia Millinum Tower
25 פברואר

Arcadia Beach Continental
23 פברואר

Copacabana condo EIA APPROVED
22 פברואר

Grand Florida Beachfront Condo Resort Pattaya
19 פברואר

Whale Marina Condo Pattaya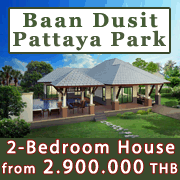 <<< < < < <



C7997


פטאיה, דירה, 35 מטר מרובע 1 מספר חדרים
אובייקט: Paradise Park
נכס מדד פטאיה
אזור: Jomtien מפות

בתשלומים מכירה - 1 חודש

סוג נכס - המשרד התאילנדי



המרחק להים (מ.) 900 מ
נוף לים אין
חדר אמבטיה 1
מזגנים 2
רהיטים ריהוט מלא
מטבח
מיקרוגל
תנור גז\חשמל
מקרר
טלוויזיה
אינטרנט WI-FI

תשלום עבור הבית המשותף:
35 THB - מטר מרובע - חודש

בריכה בריכת כללי
אבטחה
CCTV מערכות מעקב וידאו
המערכת של גישה אלקטרונית
חניה
חדר כושר
כביסה
בר
גנה
מגרש ילדים


Paradise Park - new project in Jomtien. 3 low-rise buildings surrounded the biggest in Thailand swimming pool with tropical garden, Jacuzzis, shallow areas within the pools, islands on which to relax and a real sand beach to heighten your leisure experience.

Paradise Park Condo has a limited number of exclusive poolside apartments with private pool entry, direct from your balcony.

Studios, 1 and 2 bedroom apartments in Paradise Park are fully furnished. High quality floor tiling, well appointed fully tiled luxury bathrooms and high quality sanitary ware are all included.
A fitted Euro Style kitchen including refrigerator, electric cooker, hob and extractor hood are all standard at Paradise Park. Dining table and chairs in the living room, along with a sofa, coffee table and fitted TV / display unit (with flat screen TV), all included in every apartment.

Cheapest prise in the market with European quality plus prime location just 800 meters from Jomtien beach!
Great opportunity for profitable investment!

Project specifications:
- 3 buildings
- 507 units
- unit sizes 35.4-70.8 sq.m.
- land 5.5 Rai
- building area 18.269 sq.m.

Facilities:
Х 1,200 sqm. swimming pool with real sand beach
Х Gymnasium
Х Children play area
Х Restaurant-bar
Х Laundry and House Keeping service
Х 24/7 reception service/security guards
Х CCTV
Х Car parking
Х Two elevators in each building
Х Reserve Water System
Х Electric Buggy Taxi service to the Beach
Х Short walk to food market and 7-11

Paradise Park Condo Resort Jomtien Beach - In Harmony with Nature.




| | |
| --- | --- |
| מחיר, מטר מרובע | מחיר |
| 39.429 THB | 1.380.000 THB |
| 79.232 руб | 2.773.094 руб |
| 1.192 $ | 41.742 $ |
| 1.043 И | 36.528 И |
דירות אחרות בתוך הדירה Paradise Park
נכס מדד פטאיה
ID
עוד
מחיר
מטר מרובע
מחיר
$
מספר חדרים
שטח
מטר מרובע
C6397
>>>
1.365
47.791
1
35
C7998
>>>
1.192
41.742
1
35
C8027
>>>
1.192
41.742
1
35

הקורס של הבאט התאילנדי
THB
buy
sell
USD
33.06
32.36
EUR
37.7788
36.5737
GBP
42.2425
40.3662
HKD
4.32625
4.0522
JPY
29.375
28.225
December 14, 15:02
www.bangkokbank.com